Hepatitis C is an infection caused by the hepatitis C virus. It is spread by contact with an infected person's blood and is extremely contagious. In fact, hepatitis C is approximately seven times more infectious than HIV. It affects the liver, and with time it can lead to cirrhosis (loss of liver cells and irreversible scarring of the liver), liver cancer, and ultimately liver failure. Egypt is the most affected country with over 20% of all cases being from the region. Some people who get hepatitis C have it for a short period of time and eventually get better, which is called acute hepatitis C. The majority infected with the virus go on to develop chronic hepatitis C.
Not all people have symptoms when they are first infected. It takes between 2 weeks to 6 months for symptoms to appear after the hepatitis C virus has entered the body. An infected person may not know that he/she has the disease until there is a noticeable sign of liver damage. According to the WHO (World Health Organization), over 150 million people are chronically infected with the hepatitis C virus. More than 350,000 people die from Hepatitis C-related liver diseases every single year.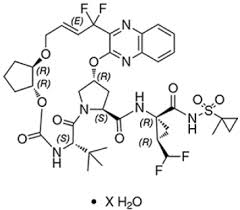 Treatment
A person must take a blood test to determine if he/she is suffering from the disease. ELISA (Enzyme-Linked Immunosorbent Assay)  is also the test used for blood donor screening. ELISA tests for antibodies against the Hepatitis C virus. If antibodies are detected, that means the person has been exposed to the Hepatitis C virus. There are several approved drugs to treat hepatitis C.
Glecaprevir Treatment
Glecaprevir produces a genetic barrier against mutations of the Hepatitis C virus. It acts as a direct antiviral agent and a protease inhibitor to the Hepatitis C virus. The combination of NS3/4A protease inhibitor Glecaprevir and NS5A inhibitor Pibrentasvir is used for 12 weeks in adults who have HCV genotype 1, 2, 3, 4, 5, or 6 and yields a positive result. The success rate of this treatment is over 93%. It is available in an oral combination therapy with Pibrentasvir and is sold under the brand name Mavyret. A dosage of 300 mg of glecaprevir and 120 mg of pibrentasvir in patients without cirrhosis is ideal. Contact a doctor for a prescription and obtain knowledge about the ideal dose for you.
Featured Image: Twitter